Sophia and Rebekah
General Information
Nickname(s)

Rebia

Intimacy Level

Relationship on its way to begin repaired however Sophia cannot forgive Rebekah for the things she has done

First Met

When Rebekah was born

Status

Adoptive Sisters, Possibly Best Friends, Allies
The relationship between the Original adoptive sisters, Sophia Zariah Mikaelson and Rebekah Mikaelson. The two sisters have always been close TBA
Early History
Edit
10th Century
Edit
Throughout The Originals FanfictionEdit
Rebekah and Sophia are reunited after the arrivals in New Orleans. They team up when discovering Elijah has gone missing.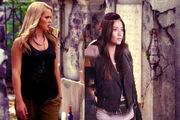 The sisters continue their search for Elijah in All You've Got. When discovering that Marcel Gerard is holding Elijah hostage, they go to get him back but each in their own way. Marcel asks Sophia out on a date to which leads her to a perfect opportunity to question him about her brother but Rebekah shows up and threatens to kill him if he doesn't reveal their brother's whereabouts.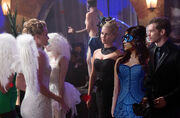 Sophia and Rebekah attend the Masquerade Ball in Tangled Up In Blue. Rebekah lends her full support for Sophia to be with Marcel.