Karen Takeda
Biographical information
Born

February 14, 1993 (almost 18)

Status
Occupation

Pianist
High School Student (Graduated)

Species
Gender
Family information
Significant Others
Parents
Siblings
Supernatural information
Appearance
Played by
First seen
Last seen
.
Karen Ryuzaki Takeda (a.k.a Kare or Ryu) is the daughter of Yoruhoshi Takeda and will be a major recurring character in Season Three. She has a significant role in the Japanese story. She is a young woman who does not know the truth to what she really is and why. Sophia Mikaelson is forced to take the job of protecting this young woman.
Early Life
Edit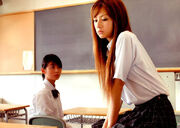 Before the events of Season 3, she had a close relationship with her older brother up until he left the family as he was not able to agree with their father on his career choice. She has not seen him in five years. Also, she was in a romantic relationship with Sora Kurai and many of the family members highly approved of it but only her father was against it. Their relationship lasted two years and their breakup was caused by a devastating event.
Throughout the Series
Edit
Personality
Edit
Karen is strong and independent young woman. She doesn't tolerate bullies and calls them out for what they truly are to how she met Sora. She is also one of popular girls at school but is shown to not care about that and likes to socialize with those all of classes.
When Karen is thrown into the supernatural world, she is refuses to believe in it.
Physical Appearance
Edit
Relationships
Edit
Main article: Sora and Karen
Karen's ex-boyfriend whom she has become enemies with.
Karen's bodyguard and soon to be sister-like figure.
Karen is the first swordswoman to appear in the series.

Her instructor seems to be her father.

She seems to still be in love with Sora.
Spending a lot of time with Sophia, will develop a sisterly bond.
Ad blocker interference detected!
Wikia is a free-to-use site that makes money from advertising. We have a modified experience for viewers using ad blockers

Wikia is not accessible if you've made further modifications. Remove the custom ad blocker rule(s) and the page will load as expected.