Aaron and Cecilia
General Information
Nickname(s)

The Eternal Soulmates
Ceciron
Aarilia

Intimacy Level

Were deeply in love
Made love
Were attracted to each other
Had undeniable chemistry
Were protective of each other
Cared about one another
He would go to the end of the world for her

First Met

1st Century B.C.

Started Dating

1st Century B.C.

Status

Ended (Aaron died)
Former Soulmates
Former Husband & Wife
Parents of an unnamed son
Were Allies
Were Best Friends

"
To my world, Cecilia...If you are reading this, then I am already gone. Know that I love you more than anything, you are my treasure, my life, everything that I hold dear to me. You gave me a new life and I will always cherish that. You once told me that I snuck up on you and that you couldn't shake me off, well to let you know, you did the same to me...One day, we will reunite because our love is eternal and nothing can break that. We are meant for one another..Forever...I love you, Cecilia.
"

— Aaron's message to Cecilia
"Since you know the love story of Aaron and Cecilia...You should know that Aaron would go to the ends of the world for Cecilia."
—Kylie to Marcel in The Voodoo
The compelling romance between fan-favorite couple, Aaron and Cecilia, is one of the most important storylines within the series.
Their love story first began during the Ancient Times and they were one of the most well known couples throughout the land. When Aaron and Cecilia had their first meeting, there was an immediate connection between the two of them.
This romance is described as one of the most beautiful tragic love stories ever. Fans find themselves compelled to this relationship because of the strong deep love between Aaron and Cecilia. There are times when there's a Captain Swan or a Romeo & Juliet feeling to this couple.
According to Eileen, Aaron and Cecilia knew they were each other's soulmates because of their connection. They both had weak points that they didn't want anyone else to see but they lowered their guard around each other. Their love for each other was so strong and passionate that no one could tear them apart. Aaron was the first to know and later on, Cecilia came to realize it herself that they were meant for each other.
"The woman who gets to be with Aaron will never be able to shake him off."
—Cecilia to Eileen
Aaron and Cecilia first met when she was engaged to another man. As Aaron was longed for by many women, he instantly fell for Cecilia when he first saw her. Aaron and Cecilia became friends and grew closer to each other, at times having many sweet moments.
TBA
"It's not wrong. Before I tried to stop my attraction towards you, but it wouldn't go away. So I accepted it and allowed my feelings for you to grow. Now, it's time for you to do the same...And when you do, I know that I have won your heart because you wanted me. No one else but me."
—Aaron to Cecilia
As Aaron grew closer to Cecilia, his family noticed the sparks between the two and was against the idea for him to be with Cecilia as they had high expectations of him and she represents the upper class. Aaron ignored their wishes realized that Cecilia was her soulmate which lead him to kiss her for the first time and later confessing her feelings. Cecilia continued to deny him and to ignore her attraction towards him. During this time, Calantha and Andra were trying to get Cecilia to admit the truth of her feelings for Aaron.
Later on, she eventually learned of her fiancé's true intentions. He was only using her so that he could take her powers, he never truly loved her. For revenge, she killed him and Aaron witnessed the entire thing. He chose to stay by her side and remain her friend. He would wait for her until she was ready to accept and admit her feelings for him. They spent time together occasionally and many of the women were jealous as they wanted Aaron to court them. Over time, Cecilia saw the truth about Aaron, to who he really was; her soulmate. Aaron's family and other women tried to keep Cecilia and Aaron apart but each time, their actions failed as the love between Aaron and Cecilia prevailed each time.  
"Promise me your life and I will promise you mine. That we will spend eternity together again and again."
—Aaron proposing to Cecilia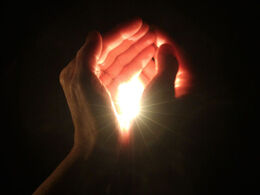 When Cecilia was eighteen, Aaron took her to their special place to watch the stars. He points at the brightest start and tells her that star in a way represents her name; "One of the shining light." He then uses his magic to bring that bright star to his hand and gives it to Cecilia after chanting a spell that brings different colored stars all around the two of them. He tells her to keep the star with her and remember the moment that they are sharing. He asks her to promise him her life and he will promise his life to her as well, proposing to her to which she happily accepts. Later on, they get married and have a son.
TBA
Two years later, for unknown reason, their child was taken from them and Aaron was killed. Cecilia, hoping to find her mother and bring back Aaron and find their son, she created a new spell: The Eternity Spell, in order to live forever. Yet a price had to be paid to complete the spell, she had to give up her memories of her husband and son. She believed that one day she would her memories return in order to get her husband and son back.
Their StoryEdit
Iconic Themes/Moments
Edit
Come Back To Me
Cecilia's Star from Aaron
Boat Sailing
Flower Gardens
Promotional Images
Edit
Aaron and Cecilia were few of the first soulmates to exist during the ancient times.
Eileen Remis, Tessa, Kylie and possibly Katherine ship this pairing.
Their main love themes have always usually been:

Nothing Left To Lose by Ethos Music.
Suns and Stars by Really Slow Motion Music.
All the Way / 4U by Poets of the Fall.

Cecilia losing her memories of Aaron is similar to Elena losing her memories of Damon back in The Vampire Diaries. However, Cecilia's situation was different as it was the price she had to pay in performing the Eternity Spell and in hopes that one day that she would be able to save Aaron and her son.
Aaron knew of Cecilia's true identity after finding out she was an Elemental Witch and never told her the truth.
Cecilia regained Aaron's Sword and a message that he left for her in A Special Reunion.
This pairing has a bit of a Captain Swan (Once Upon A Time) and Romeo & Juliet feeling.
Ad blocker interference detected!
Wikia is a free-to-use site that makes money from advertising. We have a modified experience for viewers using ad blockers

Wikia is not accessible if you've made further modifications. Remove the custom ad blocker rule(s) and the page will load as expected.